In our current culture there are battles surrounding us. Simple conversations can set us off into ugly arguments. Society it seems is over energized. The world has gone wonky.
I have lived a goodly number of years and never have I felt the tension being so tightly wound that you can feel the coming explosion in the air. The unwinding has to take place. We feel it coming on the wind.
God has warned us (His Children) to be on our toes when this attitude begins to overtake the world and begins its ascent to a fever pitch. Satisfaction is difficult to find. Cynicism, doubt, mistrust, is wearying us all.
2 Tim.3:1-5 " But, understand this, that in the last days there will come times of great difficulty. For people will be lovers of self, lovers of money, proud, arrogant, abusive, disobedient to their parents, ungrateful, unholy, heartless, unappeasable, slanderous, without self-control brutal, not loving good, treacherous, reckless, swollen with conceit, lovers of pleasure rather than lovers of God, having the appearance of godliness, but denying it's power. Avoid such people." Luke 12:53, "They will be divided, father against son,and son against father, mother against daughter and daughter against mother, mother-in-law against her daughter-in-law and daughter-in-law against mother-in-law". You get the idea. Holiday get togethers will be anything but a picnic! 'Mathew 24:7, tells us," For nation will rise against nation, and kingdom against kingdom, and there will be famines and earthquakes in various places". It's already all the news carries, Countries, groups of them, cities even neighborhoods, we are being warned of as being unsafe.
One would think that Christians would be armored up and at the ready, right? Well a good many are but it seems very many are not. Are they just weak, uninformed? No, all true believers have the Holy Spirit living in them. Teaching, leading, reminding, rebuking. To stay in sin for any length of time will become too uncomfortable for us. Then there are those who are followers but not committed, so have not the Holy Spirit. They want the things of God and heaven but just not now. Followers feel safe but they are not. They are being deluded by false prophets, teachers, preachers. Sadly. And it is said, "they went out from us, but they were not of us. for if they had been of us, they would have no doubt continued with us. But they went out, that they might be made manifest that they were not of us"1Jn 2:19
At that last day, Jesus will separate the wheat from the tares. All Whose name is written in the book of life, and those whose name is not. They will be separated, " as the sheep on His right and the goats on His left." by Jesus. Mathew 25:33
I fear that many do not understand the differences between being tempted and those who are being tested. They are not the same. Don't be fooled, they are not even close. This is no time in history to be confused about this.
Temptation comes from sin. The sin that already lives in us. The sin that Satan wants to use against you and me and the Church. God has nothing whatsoever to do with temptation, except He guarantees you will have a way out of it, so you do not have to succumb to it! If you do succumb it's because you wanted to. End of story, full stop. I know, I have been there, it is not good.
Temptation also per the Word of God can lead to death! The devil is allowed to tempt us and to use our feelings to do it. That's why we should never trust our feelings to guide us. Back the experience, the temptation, up against God's word. Ask the Holy Spirit to lead you away from it. Ask God for strength, He will give it.
Temptation causes ruin, starts with a feeling often, an enticement to sin and evil. We are urged to misuse the gifts that God gave us. Not for good but for our pleasure. There are three ways for us to fight temptation, the first one I believe is IMMEDIATELY deal with it. Don't give it time to grasp, grow or get a hold of your thoughts or feelings. Do not act on it. No. But 2ndly be RUTHLESS with getting rid of it. God tells us if our hand tempts us by reaching out or touching cut it off, or gouge out the eye that looks at it. To me that's dealing with temptation, strongly, ruthlessly. Our souls are at stake!. Thirdly we must deal with them CONSISTENTLY. When Satan realizes were on to him and won't win he will move on. At least for a while. For God's children temptations are right at the top of Satans list of trying to shut us down. The devil doesn't care much about those that are not God's, now or ever. He already has them and just has to keep them from getting with God's Chosen ones. Keep them away from truth and keep them wanting to believe the lie.
Testing however does come from God, and He only tests His own. God does not chastise or develop other children only His own. So if you have been rebuked, chastised by God consider it a blessing. We are to learn from testing, to grow, to become more Christlike. Develop integrity, character. To bring glory to God.
I have found that the longer I walk with God the greater, yes even more difficult the tests become, and the greater the blessing, if and when I get it right. He stays with us as we are tested, The Holy Spirit gives us direction all along the way. If we stumble or fall along the way, as soon as we confess it, (not because He doesn't already know) but to show that we know! We acknowledge confess and are forgiven. We try again. And again, growing more into the people for Heaven.
Frankly knowing this and knowing how near we are to Christ coming back I expect we will be chased after all the more. The good news is God has said He will hang unto us, He told His father none would slip from His hand. He also said He will finish the good work He started in us! Count on it, I take it to my bank in God's book.
So take heed my dear Brothers and Sisters, stay strong, stay in touch , run the race with all your heart……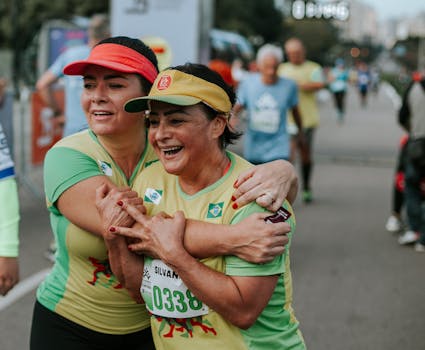 Encouraging each other, we run with confidence…….In Him who promises to never leave us or forsake us. .See you at the end of the race……..God Bless