From the Mountain tops to the deepest Valleys From Me to You
The aim here is to be a help for anyone experiencing storms, wind and beautiful sunsets alone. Whether patient or caregiver, family or loved one it is not good to be alone. So if you need someone to lend a hand or an ear I am ready. I am here for you.
Two emotions deep down inside, are those of humility and pride. They produce what men may see, in the life of both you and me. A haughty spirit can reside, in a heart that's filled with pride. A humble spirit is in you and me, when we're filled with humility. You can lift yourself up with pride, but, God's word will not be denied. God's word is clear and loud. God will humble all the proud. Men may believe that they are wise, but that is only in their eyes. For all pride, my dear friend, by the Lord shall be condemned. On the cross there was no pride, as Jesus Christ our Savior died.
Fear can be found in loneliness, fear often masquerades as worry, anxiety, even selfishness. In our aging we experience many changes physically, socially, metabolically and loss. We worry, but really it is fear, we are afraid of the unknown. Worry is sin, it is mentioned often in the Bible for us to avoid it. Each day is sufficient for itself. I recall a quip made to me one day by one of my sons. He was being flip most likely but it resonated with me. He said 'A hundred years from now no one will care or have even heard of…..(insert here what worries you). It's true.
Also, anxiety is confused with worry, really it is fear disguised by our enemy. We fear our loss of purpose, loss of vigor, and on and on…. Male or female. Could even fall into the envy, jealousy trap. That the Bible tells us can rot our bones. Our fall and winter years are blessings. Envy of others, younger or experiencing fuller lives is a road we must not travel. That road can lead to ruin your spiritual hunger. That envy of others breeds a destructive spirit and brings on chaos. We must avoid envy and jealousy at all costs. Fear in and of itself is not bad, it is not sin. Worry, anxiety, self centered, envy, jealousy are sin. Which can ruin lives, lead to self-pity. That sin can cause a type of spiritual leukemia.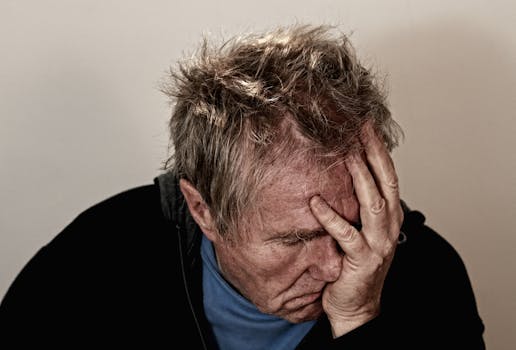 Moving in and living in fear is again harmful to our relationships and is a signal all is not right with our place near God. Worry is sin, if you're a believer.
As in most of this list all of these are human traits that Jesus understands and has promised to guide us through, lift us through and give us renewed strength and purpose. The sin is in our doubting Him. Doubting His willingness or ability, that comes from the evil one whispering on the wind. We must not believe it.
Men especially fear the loss of their profession. They pride themselves in their successes, accomplishments, finances, friends. They place their self-worth in within their work. Women fear equally the loss of family. Loss of position, being needed. We need to nurture. We take pride in our children, in the people they become. But they grow up and out and our self-worth makes us also ponder, what's next. Could I have done better? The answer is yes, we all could have and even today because we are not finished. Both genders can share these changes individually depending on our earlier lives. The fears of these new changes are actually tricks of the evil one to keep us from seeing the new opportunities Christ has in store for us.
There is a plan. Wait for it, look for it, expect it. We must not let our pride or our ego's get involved. Discouragement often shows up if we lose sight of the fact that there is a plan, a purpose for each of us, we must not lose sight of the big picture, and stay as close as possible to our community of faith.
Christ had displayed for us humility, As the Savior of all humanity. The eternal God far from weak, was to all men humble and meek. God's example is for all to behold, His Word will not grow old. Friend pride can be a hindrance To the life Christ has given to us. Pride will never be used by God, but shall be judged. By His rod. Allow Christ's humble Spirit within, then you shall be used by Him. As only a meek and humble life, truly displays the power of Christ.
I believe that God is good always and in in all ways.. Thankfully, I have lived long enough to have shared so many blessings. To have experienced some of His greatness and goodness personally. We live in potentially discouraging days. But arresting discouragement or fear before it ever gets on the property of our heart and mind will keep it from taking over and stopping the work God is doing in and through us.
Gal.6:9, Neh. 4;1, Jn.4:18, Hebrews 2:14-15 Gen.26:14, Luke 15.